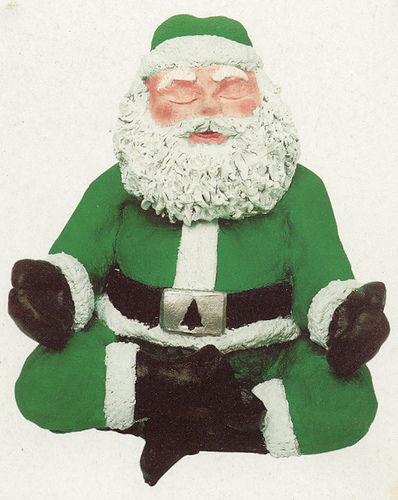 Whether you're celebrating Christmas, St. Nicholas, Kwanza, Winter or Summer Solstice, Navidades, Hanukkah, St. Lucia Day, Boxing Day or New Year's, the holidays can be stressful.
Decide now whether this year will be full of the season's stressful traps or fulfilling with plenty of treasures to be thankful for.  Take some time to set priorities and make the necessary changes so the holidays are inspiring and energizing instead of a drain.  Pay attention to what your needs and wishes are for your body, mind, and heart while finding the balance with sharing with others.  I hope these Holiday Energizers from Whole Person Associates help you as much as they help me.
Cheers!
Know what goodies will fill you.  What kind of contact will be fulfilling for you?  What kind of gift exchange will be meaningful to you?  What do you need to help your heart and soul feel refreshed?  If you know clearly what you want, it's easier to choose activities that are likely to satisfy your desires.
Ask for what you want.  Don't hint.  Don't wait for someone to read your mind.  Don't expect others to guess what will satisfy you.  Speak up.  If you're lonely, ask someone to share your celebration – or ask to share in someone else's.  If you love surprises, let people know.  If you need time alone in the midst of togetherness, say so.  If you can't get what you want, want what you get, it's much more satisfying than wishing for the impossible.
Give yourself permission to feel as you do.  Listen to yourself.  Feel what you feel, not what you "think you are supposed to feel," or "wish you felt."  When you feel down, feel down.  It won't last forever.  When you feel excited, go ahead and enjoy it.  Trying to manipulate your feelings or act contrary to them will distance you from yourself.
Select celebration patterns with care.  Remember your past and bring it into the present.  Your "treasure box of memories" will contain pain as well as warmth and joy and it offers you a personalized source of depth and richness.  Repeat a tradition you've always kept.  Ask others about their rituals, pick one that's new for you, and try it out.
Make positive contact with others.  At parties, make sure you have a good conversation with several people.  If parties aren't your bag, make contact in some other situation (a neglected neighbor? with a religious group?) If your friend or family list is too short, look around for others in the same boat.  Try volunteering at Meals on Wheels or the crisis shelter.  Someone in your community needs your love.  Reach out to others – for both of your sakes.
Set priorities.  List all the things you want to accomplish.  Cross out unnecessary activities.  Refuse to suffer.  Do unpleasant tasks as quickly and painlessly as possible, then reward yourself.  Keep for yourself the activities you enjoy, even if they aren't essential or could be done by others.  You need them.  They nurture you.
Turn obligations into energizers.  Rituals and traditions that characterize our celebrations can stimulate spiritual reflection, excitement and wonder.  Even exciting tasks, repeated year after year, may turn into obligations.  Creatively update tasks so they provide new energy.  If anything conjures up an image of drudgery, try a new approach that can energize you.  Traditions can help us get through the difficult times when our feelings don't quite match the occasion.
Give meaningful gifts.  Give blood.  Give your presents (buy something, make something) – and give your presence and pledge your time and attention – don't just give tickets to a cultural or sports event – plan to go along and share the experience together.  Volunteer to babysit.  Remember to put yourself on the gift list.  Treat yourself to a gift that's just perfect for you.
Take care of your body.  Don't overeat, over drink, or overplay.  It saps your vitality and diminishes your ability to enjoy the holidays.  Protect your energy.  Learn to celebrate without abusing your body.
Pay attention to your spirit.  Listen to your core.  Touch it and let it touch you.  What do you believe?  What's really important?  Holidays invite reflection.  Nurture this opportunity as part of your celebration.
Laugh.  Laugh a little or a lot, depending on your level of stress. Laughter reduces tension.  Do something unusual and outrageous each day.  Practice seeing the humor in your holiday dilemmas.